Paul Burik
Past-President of Cleveland Cultural Gardens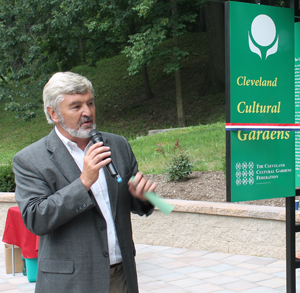 Paul Burik Speaking Topics include:
Cleveland Cultural Gardens (In General)
Czech Cultural Garden (Specifically)
Bohemian National Hall
Paul was born in the Czech Republic. He and his father escaped from Czechoslovakia in 1968 after the Soviet invasion and settled in Cleveland.
Mr. Burik attended Kent State University where he received a degree in architecture. Paul spent much of his professional career working for the City of Cleveland as Chief Architect, now retired.
Paul Burik became involved with the Cultural Gardens as a representative of the Czech Garden. He is the immediate past president of the Cleveland Cultural Gardens Federation. Paul is president of the Cleveland Chapter of Czechoslovak Society of Arts and Sciences, and a member of SOKOL Greater Cleveland.