Paramjit Singh
Sikh leader promoting Peace and Non-Violence.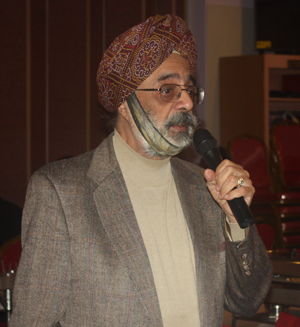 Paramjit Singh Speaking Topics include:
The Real Cleveland Indians
Mistaken Identity – A beard and turban do not make a terrorist
Sikhs and Sikhism
Peace and Non-Violence projects
Making Cleveland the City of Peace and Non-Violence
Mahatma Gandhi and Martin Luther King Jr.
Guns don't Decide Who is Right, Guns Decide Who is Left
Paramjit Singh has been a Community Leader in the Asian Indian Community since he landed in Cleveland, Ohio in June of 1962.
He is the longest residing Sikh in the state of Ohio and has dedicated his life to serving the needy. After 9/11 he has been asked to speak to many groups about Sikhism because of the Mistaken Identity. He is passionate about making Cleveland the City of Peace and Non-Violence and came up with the idea of creating a Cyber Wall for people to pledge for Non-Violence just as they pledge for Tolerance on the Wall of Tolerance at the Southern Poverty Law Center in Montgomery Alabama.
Paramjit Singh completed his Mechanical Engineering from the Indian Institute of Technology (I.I.T.) Kharagpur, India, in 1958 and completed his MBA from Case Western Reserve University in 1962. He served as the Chairman of International Student Group of the Cleveland Council on World Affairs, which gave him the opportunity to share with students from all over the world about the Sikh faith (the fifth largest religion in the world).
Paramjit Singh made history in Cleveland by being the first turbaned Sikh to be a part of Case Western Reserve University graduation ceremony (proudly wearing his turban, rather than the traditional mortarboard) in 1965.
Among his many well-deserved honors, Paramjit Singh was inducted into the inaugural class of the Cleveland International Hall of Fame.