Johnny Wu
Filmmaker, Asian Community Leader, Festival Producer,  Martial Arts Hall of Famer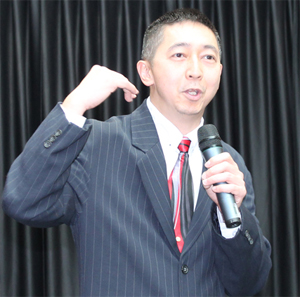 Johnny Wu Speaking Topics include:
Asian Culture
Cleveland Asian Festival
Diversity
Event Producing
Filmmaking
Marketing
Martial Arts
Johnny K. Wu is a veteran award winning filmmaker with an MBA specializing in branding. He is a two-time Hall of Fame inducted Martial Artist.
Since 1998 he has produced events and transformed ideas (using branding/marketing visual) into reality for businesses from small to fortune 500 businesses
He is a well-known and respected leader of the Asian Pacific American community in Ohio, co-founded the Cleveland Asian Festival, as well as recognized by ethnic cultural groups as the Producer for Cleveland Cultural Gardens' One World Day and many others.
Wu was also one of the pioneers that helped engage the Cleveland's independent filmmakers' industry by giving back and helping local talents and creating the Cleveland IndieClub monthly get-together that started in October 2003.
Johnny Wu has done numerous speaking engagements at universities, conventions and festivals on topic related to Asian culture, diversity, producing, marketing and filmmaking.
Wu is the owner of media branding production company Media Design Imaging with several award winning films with worldwide distribution including: WILL, Die from a Broken Heard, S: A Superman Fan Film, OCA Image TV and The Rapture. His latest film is a webseries fan film called T.R.A.C.E. A Doctor Who Fan Film Webisode with over 45,000 views of each episode.