Erika Puussaar
Estonian Cultural Garden and Community Leader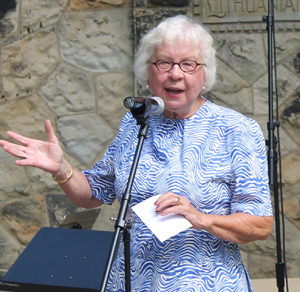 Erika Puussaar Speaking Topics include:
Cleveland Estonian Cultural Garden
Estonian Community of Cleveland
Growing up as a Displaced Person in WWII in a Refugee Camp
The Baltic Nations (Estonia, Latvia and Lithuania)
Respecting the Flag and National Anthem
Erika Kikut Puussaar was born in Vandra Estonia in 1941. "We escaped Estonia when the Russian Army invaded our homeland. The Kikut family of seven survived in German Displaced People camps for seven years.
We immigrated to the United States of America in 1951. Our original sponsor was a Lutheran Church in Detroit, Michigan. We soon moved to Ann Arbor, Michigan where my father, Artur Kikut, found employment as a mechanic. All the Kikuts attended an Estonian Church in Detroit. All four children were confirmed in the Estonian church."
Erika graduated from Pioneer High School in Ann Arbor in 1961, then earned a Bachelor of Science degree from Northern Michigan University and then a Master of Education from The Cleveland State University. Erika then spent thirty successful years as an elementary teacher in Wickliffe, Ohio.
After graduation from Northern Michigan University, Erika married Aavo Puussaar, another Estonian. Aavo introduced Erika to the Cleveland Estonian community. Thus, she became involved with the Estonian Lutheran Church of Cleveland, Arendaja (a social group) and now serving as president of the Estonian Cultural Garden.
She is also on the Executive Board of The Cleveland Cultural Gardens Federation and School Board, Our Shepherd Evangelical Lutheran School, Painesville, Ohio.