Les Roberts
Cleveland's Favorite Writer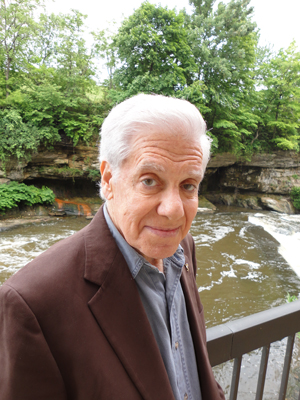 Les Roberts Speaking Topics include:
Getting away with Murder – About writing mysteries.
We'll always have Cleveland – Why I love the city so much.
How Show Biz turned my hair gray at Thirty – Ghastly stories about surviving in Hollywood.
Les Roberts was born and raised in Chicago to a dentist and a homemaker. This rather ordinary beginning led to a most extraordinary life: author of 28 novels, a novella, a memoir, and many newspaper articles and reviews along with several screenplays. He's most-loved in Greater Cleveland for the creation of his Slovenian private detective, Milan Jacovich, and has completed nineteen Jacovich novels.
He began his career as an actor in Chicago and New York, where his writing began overtaking his acting career. He wrote for such classics as Candid Camera and The Jackie Gleason Show.
His next stopping grounds was Hollywood, where he was the first producer and head writer for the popular Hollywood Squares and rubbed elbows with true greats like Paul Lynde, Don Rickles, Glenn Ford and Buddy Hackett. During the next 24 years he wrote and/or produced more than 2500 half-hours of network and syndicated TV, including The Lucy Show, The Andy Griffith Show, and The Man From U.N.C.L.E, to name just a few.
Les's introduction to Cleveland came when he was hired to create a lottery game show for Ohio, which ultimately became Cash Explosion. He moved on to create similar lottery shows for Michigan and Illinois, but couldn't forget Cleveland. He moved here permanently in1990 and says his Cleveland years have been the best ever. It's where he feels most at home, and has developed the most significant and lasting relationships of his life and experienced the most success and fulfillment in his career. He's been twice nominated for both the Shamus and the Anthony awards, has several times been voted "Cleveland's Favorite Writer," and was recently voted one of Cleveland's Best 100 Entertainment Personalities.
He is one of Northeast Ohio's most-demanded public speakers.
In May of 2009, Les was awarded an honorary Doctorate of Humane Letters by Cleveland State University. Now you can actually call him "Doctor Roberts"—if you really want to.