Joseph Patrick Meissner
Attorney, Green Beret Vietnam Veteran, Author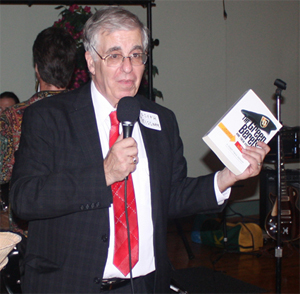 Joe Meissner Speaking Topics include:
Viet Nam: Yesterday in War, Today in Peace
Ireland, one hundred years after the Rising
Despite the famine, eight million Irish strong today
What is wrong with Chief Wahoo?
Why are your utility bills so high and what can you do about this?
Ten famous cities of Asia that I have visited and what they can teach us in America
The four famous novels of China and how they help us understand our Number One Rival in the world
Attorney Meissner graduated from St Ignatius High School, Cleveland, in 1959. He received his BA Degree in 1963 from Xavier University in Ohio. Valedictorian of his class, he was awarded a History Major and minors in Mathematics and Philosophy. He received his Doctor of Law Degree from Harvard Law University in 1966.
In Law School, he Co-Chaired the Harvard Civil-Rights Committee. He created and Co-Edited the Harvard Civil Rights-Civil Liberties Law Review. He became very interested in Civil Rights while at Xavier and journeyed to Birmingham, Alabama, in May 1963, where he witnessed the dedicated efforts of Dr. Martin Luther King and other civil rights pioneers. In 1964 he worked as a member of the Law Students Civil Rights Research Council, in the South in Alabama during the Freedom Summer where he assisted the Nonpartisan Voters' League in Mobile. In the summer of 1964 he was the Chief Assistant to Attorney William Higgs who headed up the Human Rights Project in Washington, D.C.
After graduating from Harvard in 1966, he passed the Bar Examination in Ohio and was admitted to the Ohio Bar in November 1966. In June 1967 he began working for the Legal Aid Society after being hired by Judge Burt Griffin, then the Legal Aid Director. Two months later he received his orders for the Army and reported to Fort Harrison in Indiana. Graduating at the top of his military class, he volunteered for service in Viet Nam. He then served one year at Fort Hamilton in New York and was sent to Viet Nam, where he was privileged to serve in the 5th Special Forces Group also known as the Green Berets.
After completing Active Military Duty and receiving a Bronze Star for Service and Two Army Commendation Medals, he performed as Attorney-in-Charge for Offices of the Cleveland Legal Aid Society from 1969 through 1975. He served as the AIC in the Kinsman Legal Aid Neighborhood Office on East 79th Street. He was then appointed the AIC for the West Side Office at Lorain and Fulton. He then became Director of the Society's Community Development Section where he served for thirty seven years.
In 2007, he achieved Senior Attorney status at the Legal Aid Society. During this time, he's been Legal Counsel and adviser for almost three hundred businesses and community organizations. His office provided legal services on tax law and incorporation, business contracts, trademarks and copyrights, utility rate-making, and environmental regulation.
His legal work has included work on behalf of various community groups. In 1975 he co-chaired the Vietnamese Information Services which oversaw the resettlement of some 15,000 Vietnamese refugees. In 1980 he worked on the resettlement of the "Marielito" refugees from Cuba and personally sponsored 29 of them to Cleveland area.
He worked with the Neighborhood Environmental Coalition as one of their chief attorneys in the battle against air pollution. This included cases involved J&L Steel, Republic Steel, and CEI. He represented civic groups in many PUCO proceedings including some twenty-five rate cases, Nuclear plant prudence cases, and other utility matters. He and his clients fought hard to establish the Percentage of Income Payment Plan in 1983 which was used by some 400,000 families in Ohio this past year in order to maintain their utility services. He also advocated for and won the establishment of the Fuel Fund Programs–generously funded by FirstEnergy–which are providing over $20 million dollars of assistance for low-income, senior, and other vulnerable households.
He transitioned from the Legal Aid Society to a community legal practice on Cleveland's near west side, serving the poor and moderate income in that community. His office, Joseph Meissner and Associates, has worked on cases involving foreclosure, utility rates, community groups, the environment, immigration, taxes, and other legal issues. He serves as the Legal Counsel for the Citizens Coalition which brings together community groups to focus on utility and environmental matters.
Attorney Meissner is a member of the Cleveland Metropolitan Bar Association including the Internal Legal Section, The Norman Minor Bar Association, and the Justinian Bar Association.
During the past ten years he has worked with various Asian Community groups for cultural events to celebrate Asian Heritage.  For the past twenty years, he's also been Vice-Director of the Friendship Foundation (founded by Ms. Gia-Hoa Ryan, a Legal Consultant, Asian Community leader, and Court Interpreter) which sponsors professional, business, and humanitarian missions to Indochina and Asia. He's journeyed to Vietnam, Kampuchea, and Asia some thirty times on various projects. He's helped sponsor over 1,000 volunteer participants from ten different countries in these projects, supplying over twenty million dollars of assistance in private funds, medical equipment and medicines, school supplies, foods, clothing, scholarships, and services. In Indochina and Asia, assisted by Friendship Foundation Director Gia Hoa Ryan, he's lectured on Intellectual Property, the U.S. court system, corporate law, and trade policies both in the Asian Law Universities and to Bar Associations.
While fulfilling these civilian tasks, Dr. Meissner served in the U.S. Army Active Reserve Program from 1969 through 1991, achieving the rank of Lieutenant-Colonel and Deputy Commander of the 2nd Group. His military specialty is Information Operations which calls for the adaptation of new technologies and communication to modern warfare.
He is Editor of a Military Journal entitled "Perspectives," author of a published book on the Viet Nam War entitled "The Green Berets and Their Victories," and Administrator for the Email Letter FRONTPOST circulated daily worldwide. In June 2009, at a ceremony at Fort Bragg, North Carolina, he was awarded the General Robert McClure Lifetime Achievement for his military service. He continues with various military projects up to the present.
Attorney Meissner has completed a book LEGAL WARRIORS which has been published and is now available to the public.