Jim McIntyre
Communications and Marketing Manager
American Red Cross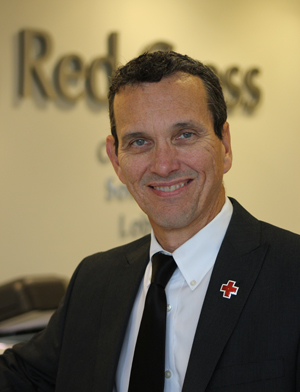 Jim McIntyre Speaking Topics include:
American Red Cross services
Disaster preparedness and response
Home fire safety
Jim McIntyre has one of the most trusted voices in Northeast Ohio, after delivering newscasts on Cleveland's radio airwaves for more than three decades.  And now, Jim is delivering the message of the mission of the American Red Cross: to prevent and alleviate human suffering in the face of emergencies by mobilizing the power of volunteers and the generosity of donors.
Prior to his appointment as Communications and Marketing Manager for the Northeast Ohio Region of the Red Cross in 2015, Jim gathered and delivered morning newscasts and hosted a daily hour-long public affairs show on news/talk 1420 WHK in Cleveland. He also delivered newscasts for the Rubber City Radio Group on WAKR, WQMX, and WONE in Akron, after nearly 19 years as Director of News and Public Affairs programming on 102.1 WDOK in Cleveland.  Jim was also News Director at 1300 WERE and 1100 WWWE, two news/talk stations in Cleveland.  He also served a year on the assignment desk at WEWS TV 5.
Among the many journalism honors he has earned is the 2013 "Chuck Heaton Good Guy Award," presented by The Press Club of Cleveland to a candidate who best exemplifies the sensitivity and humility that, along with his writing talent, were traits exhibited by legendary Plain Dealer sportswriter Chuck Heaton.
Jim is an honorary member of The Rotary Club of Cleveland, where he began delivering the Noonday News during the Club's weekly meetings in the late 1980s.  He lives in Fairview Park with his wife Marge and is an actively engaged grandfather of two.